Hong Kong Frugal Bites: Dimsum @ Saam Hui Yaat
This local dim sum dive is where grandmas and grandpas come for breakfast, lunch and tea at shared tables. In the early mornings before 6am,  you'll also see plenty of construction workers, taxi and bus drivers (from the nearby Shun Tak bus terminus) having breakfast before their morning shift. Saam Hui Yaat opens at 3am and the dim sum is sold out by 4pm on most days. A pot of hot water is served to wash your utensils with before you dig into lor mai gai (chicken steamed in a lotus leaf with glutinous rice), char siu bao (BBQ pork buns), chee cheong fun (rice flour noodle rolls), siew mai (steamed pork wrappers topped with roe), har gau (steamed shrimp dumplings), omelette rice and chicken feet. The menus here are all handwrittened in calligraphic characters plastered over the walls, so sign language or a prewritten list would definitely come in handy if you don't speak Cantonese.
The order above for two people would cost about HKD50.
All this food enough for two for just HKD51!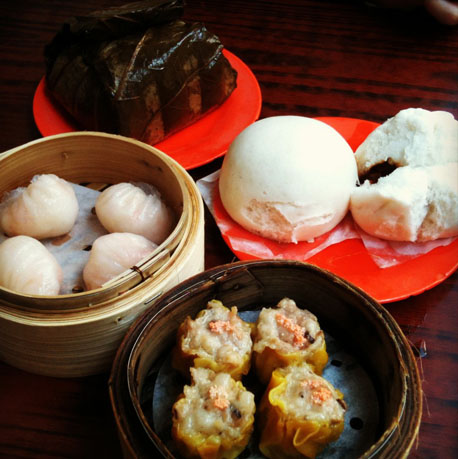 Very very tasty siewmai and hargaus so fresh, you get a satisfactory crunch biting into the prawns and very delicate translucent skin.
The lormaigai—glutinous rice with chicken is possibly the best I've had, the rice all soft and delicate and the fillings with gravy oozing out.
Saam Hui Yaat
11 Pok Fu Lam Road,
Sai Ying Pun
breakfast, chinese tea, dim sum, Hong Kong, pok fu lam, saam hui yaat, 叁去壹