Hong Kong Treat: Makoto's Omasake Private Dinner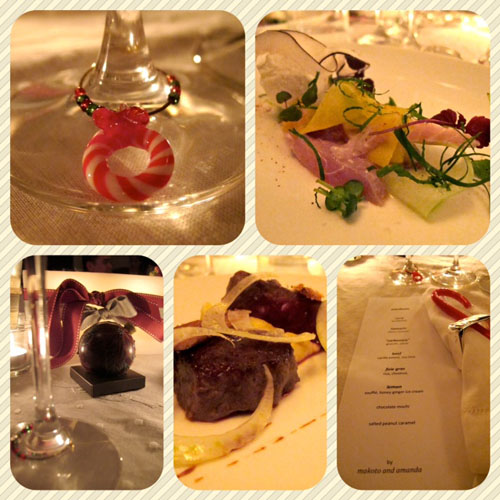 I had possibly the best and most memorable dinners in Hong Kong this year. Kudos to V, the captain of the foodies club who organised this private dinner. I've been to Makoto twice in Beijing, in hindsight, the eponymous restaurant was a failure because of poor management and nothing to do with the excellent skills of the chef. What a shame. V convinced me give it another go at the private dinner and send me some rave reviews of what he did for Private Liberty Works. One of the best dining decisions this year! :)
This dinner was co-hosted by his other half, dessert/pastry chef extraordinaire Amanda of Riquiqui.
V, as always, the best host ever with themed wine glass trinkets, professional dishware, cutlery etc, all this in a home. We started with a bouillabaisse topped with curry foam, served with a light biscotti. I have eaten (in my view) the best bouillabaisse in the world at 3 starred Passédat over the summer, so it's hard to compete.
Things just got better with every course and Makoto takes you from sea to land and back, faultlessly and perfectly timed.
Our next course was Hamachi served with a coconut ice cream and soy with crunchy shared coconut meat.
I was blown away by this gnocchi "carbonara", Makoto's interpretation of the dish, bacon infused creme fraiche served alongside pork belly a slow cooked egg deep fried in bread crumbs, topped with caviar and gnocchi done the french way with choux. Then there was the rib eye served with vanilla mash with soy lime reduction and berdock, the most under rated humble root vegetable. What a pleasant surprise.
I thought I had found my favourite for the evening, but each dish that came after was better than the next, everything so well thought through and calibrated (to quote L who was also raving at the table). And we ended on a high, with foie gras and chestnut fried rice, there's where his cultural roots came to play. So delish.
Amanda master of desserts came up with a caramel mousse served with sticky salty caramel—mars bars made super luxurious, a lemon meringue with ice cream and a twist to the chinese tang yuan dessert—usually the glutinous rice flour balls are filled with red bean or black sesame, this was filled with dark chocolate served the traditional way with a hot sweet ginger soup. What a brilliant idea! Great balance of textures and flavours, and the slight bitterness of the dark chocolate slipped right into the sweet spicy pocket of ginger soup. Sublime!
Thank you V for organising the amazing dinner and sharing your wonderful collection of wines to go with it.Amateur Gourmet is full of happy eats and like minded individuals like myself who look under plates when in fine dining restaurants or contemplating the chemistry of dishes and deciding what to order according to where the produce come from. Looking forward to more eats in 2012!
amanda, bouillabaisse, canadian, caramel, carbonara, caviar, choux, curry, desserts, gnocchi, hamachi, Hong Kong, makoto, riquiqui