Macau Chef Lovin' Part II
Prima, my ice cream designer friend came to visit, so we went to Macau and chef made us a french onion soup topped with onion ice cream—prima couldn't stop thinking about it.
We started with one of my favourite dishes: lobster with green apples sitting on a bed of celeriac mash—hint of celery was the only give away as everyone mistook the mash for potatoes and a cider emulsion. The slight acidity of the cider and green apples was a refreshing take with my hunky piece of lobster crowned with a generous portion of caviar. Perfect with a glass of cider.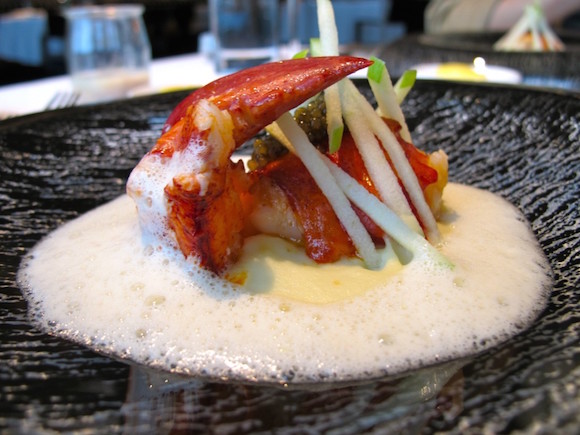 Onion soup with onion ice cream with parmesan cheese that slowly melted in the rich thick bath. It's an interesting journey for the tongue as the flavours slowly release and the mix of hot soup with ice cream catapults you to a parallel universe of soups.
This is a new creation, visually very interesting and a pleasant surprise as I didn't know what to expect with these pairing of produce. Slow-cooked sole fish topped with sweet corn ravioli in a smoked pork belly emulsion, crowned with a slice of beet—sweet and savory, smooth and crunchy and the lingering flavours of the rich pork fat emulsion after each bite.
Desserts came in the form of my absolute favourite, the banana chocolate millefeuille and chocolate ganache dim sum!
The chocolate ganache is wrapped in translucent hargau type skin and we ate it with a side of vanilla mint sauce with chopsticks.
Horizons
L3 Crown Macau, Estrada Do Istmo,
City of Dreams
路氹連貫公路新濠天地皇冠酒店3 樓
+853 8868 6681
caviar and lobster, chocolate ganache, cider, corn ravioli, design, dim sum, french fine dining, guillaume galliot, lobster, Macau, millefeuille, onion ice cream, onion soup, smoked pork belly