My Top 10 Meals of 2011
I ate alot this year, from Michelin starred restaurants, private kitchens, house parties, hawker centres to da pai dongs… there were some bad meals, alot of average meals, but so very few excellent ones. Here's my top 10 and most memorable meals of 2011 in no particular order.
1. Local pork chop noodles in Macau, Old Taipa
2. Of course, I'm biased. Various gluttony sessions at Horizons, Macau 1, 2, 3,
3. Horizons & Robuchon Macau in a weekend.
4. Private Omasake dinner by chef Makoto with the Amateur Gourmet crew
5. Best and most innovative bouillabaisse at 3 Michelin starred Le Petit Nice Passedat over the summer
6. Really one of my best and favourite meals this year. The Pourcel brothers' 2 Michelin starred Le Jardin des Sens
7. Then, the pretty new contemporary Sichuan restaurant in the Village North Sanlitun, Transit. I hope it's still as good.
8. db bistro modern in Singapore on my recent trip home.
9. The local dimsum dive, Saam Hui Yat near my flat.
10. And of course the best meals are local oily treats back home in Singapore. Homecooked and hawker centre oily treats. 1, 2, 3.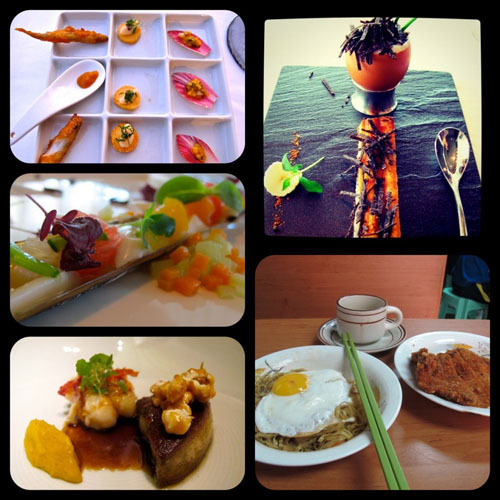 Have a great 2012 everyone!
Beijing, bouillabaisse, db bistro, Food, Hong Kong, horizons, le jardin des sens, le petit nice passedat, Macau, makoto, marseille, MBS, montpellier, omasake, pork chop noodles, private dinners, robouchon, sichuan contemporary, singapore, summer