Hong Kong bites: Mesa15
I'm racing to finishing my 2011 updates before 2012, so I'm attempting shorter quality entries.
Mesa15 was recommended by our friend chef B, they do great tapas but I guess we didn't get the special starred chef treatment so we didn't have anything to rave about. The Michelin starred chef Alejandro Sánchez of his eponymous restaurant in Spain was also off that day… so I'm not sure if that's the reason why we had a lukewarm dining experience.
Whatever you do, don't order the cold cuts platter. They were rancid. Otherwise, we had a decent dinner. A scallop salad and croquettes were so-so. G's pork dish was cooked too quickly and didn't retain its juices when served.
My crab casserole was yum, crispy on the top and a deep seafood goodness beneath.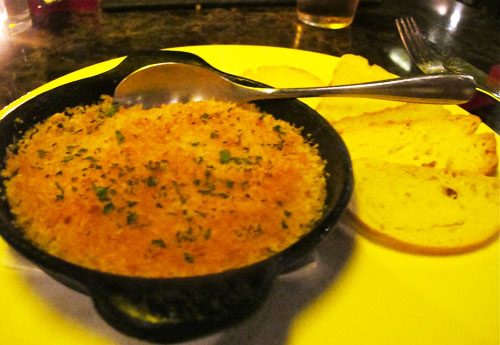 It's a cosy place to go with group of friends, but I wouldn't expect too much of the food. I would, however still return to try the rest of the menu items. We spent about 1000+HKD for two.
Mesa15
15 Hollywood Road
Central, Hong Kong
Tel: +852 2530 1890
Alejandro Sánchez, central, hollywood road, Hong Kong, mesa15, spanish, tapas