Macau bites: 2* Zi Yat Heen
I'm back on 4 hour sleeps a night, answering emails, fixing photos and personal blogging after tapering down recently to avoid burnout. The new site design is on its way with a new logo to boot.
We had brunch here months back and ordered more than enough for two. While the service was excellent and food good, it was no way near stellar standards but this Four Seasons Chinese restaurant has two Michelin stars. The dim sum menu is fair priced if you're not into abalone, sharks fin and the likes. (unlike its Hong Kong Four Seasons, they've taken shark's fin off their menus, even though it's still available upon request)
We loved these lamps and would love some of our future home.
A high class rendition of the humble fried yam croquette stuffed with foie gras. Unfortunately, too much grease and making the dish way heavier than it already is.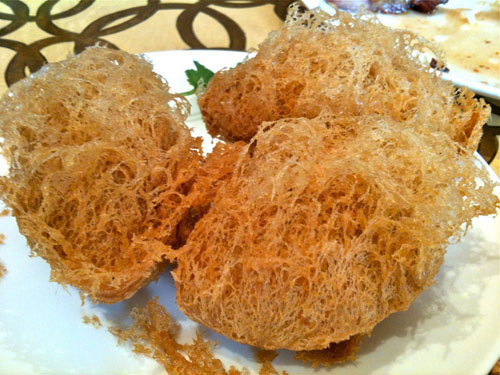 The recommended charxiu was tasty, grilled and lapped up in honey, but the meat was way too fatty. Charxiu has to be fatty to delight, but this one was a little too fatty for our palate.
Cheong fun stuffed with beef. No complains but wasn't impressed either.
We also shared a bowl of lobster dumpling noodles, that was light, delicate and delicious. We would come back with friends, but manage your expectations even though it's been given two michelin stars, I can't quite fathom it. They didn't have xiaolongbaos nor white radish cake :(
Our bill came up to 500MOP+ for two, but we over ordered (as usual) so definitely doable with 200MOP or less/pax.
Zi Yat Heen
Four Seasons Hotel Macao,
Estr. da Baia de Ns. da Esperanca
路氹望德聖母灣大馬路四季酒店
Tel: +853 2881 8888
cantonese, dim sum, four seasons, Macau, Michelin Stars, zi yat heen