Eating out: Thoumieux Paris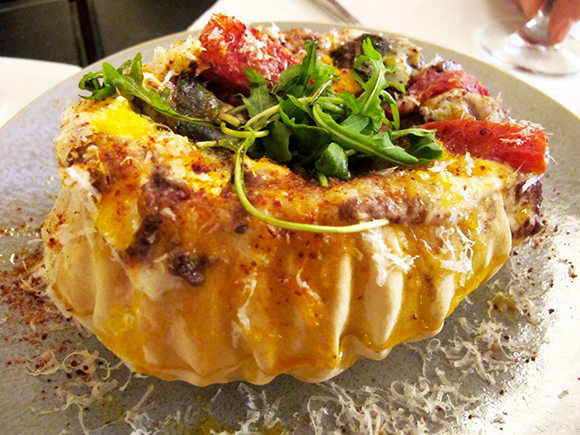 Year end de-cluttering and trying to finish up my food and travel posts before end of 2014! I'm revisiting lots of photos from our last trip back to France in September. We had a quick and very enjoyable lunch at Jean François Piège's Thoumieux brasserie, which I'd highly recommend as a pitstop before hitting the shops to continue your shopping. Lunch sets during the week is about 30€, but we went à la carte which worked out to about 50-60€/person with a glass of wine.
Interesting take on a pizza soufflé, and while nothing special in terms of taste, I think it's worth ordering for the fun of it.
Cepe was in season so I had a cepe velouté to start before my cod – both faultlessly executed.
I was  less of a fan for desserts – the benchmark of the perfect millefeuille still lies with the Robuchon au Dome Macau dessert trolley and it never fails me time and again. This one here was missing that ommph, it was too dry, a little too hard and just didn't win my heart in texture or taste.
The churros came with a side of homemade vanilla ice cream and a decadent thick chocolate side. This satisfied our need for dessert and I'd probably order it again.
Thoumieux Paris Brasserie by Jean François Piège
Reservations absolutely necessary and they don't hold the table if you're late!
79 Rue Saint-Dominique, 75007 Paris, France
brasserie, france, french cuisine, Jean François Piège, paris, restaurant, thoumieux, Thoumieux Paris