Hong Kong bites: 3* L'atelier de Robuchon
Our first date night of 2012, chef took me to the newly crowned 3* Robuchon, an additional * to their 2* status in 2011. We told chef Olivier to surprise us and boy, was it yum!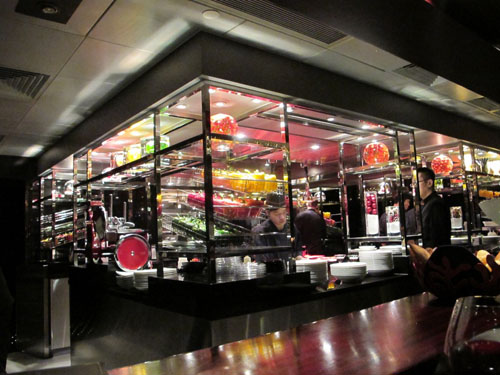 Our amuse bouche was a lovely lobster, caviar jelly and royale de cauliflower, an intoxicating mix of rich flavours of the sea, layered textures topped with rich creamy cauliflower royale.

Then the best dish of the night, a wonderfully refreshing and very generous portion of lobster salad served with vegetable barigoule featuring my favourite artichoke, carrots and courgette, full of zingy citrus goodness. Light, a great way to set the pace.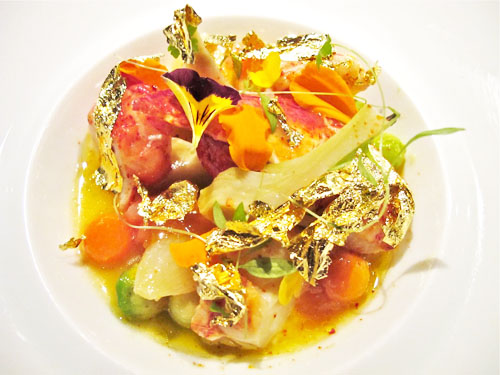 Next up, we had quickly seared medium rare scallops served with a foie gras mousse topped with truffles and gold foil. Yum, a beautiful marriage of land and sea produce.

The humble veal cheek slow cooked with love, so tender that we ate it with a spoon, served with a delicious buttery truffle mash—I could eat this all my life.

Dessert, brie with tuffle mascarpone sandwiched in between served with truffle jelly. My first time having such luxurious brie and loved every morsel of it.

And finally mango mousse dessert to finish. Was never a big fan of mango desserts, but licked it all up anyway.

I think this is my best meal at L'atelier de Robuchon Hong Kong, yet. Looks like we're going to be asking for more 'do your own thing, chef, give us the omasake menu' the next time we visit.
Merci chef pour les moment delicieux et pour commençait le 2012 ensemble avec les tres bonne repas. ♥
I would definitely recommend L'atelier over Le Jardin.
Shop 315 & 401,
The Landmark, Central, Hong Kong
Tel: +852 2166 9000
chef Olivier Elzer, Hong Kong, l'atelier, michelin star, robuchon, truffles